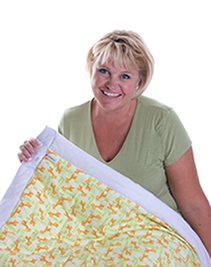 Snuggle Buggle Blankets were created in 1996 when my son was 6 months old. I needed something soft for him to lay on when he was on the floor. I couldn't find anything I liked in the stores so I started making blankets.
Our Children's Blankets are two sided handmade flannel blankets. They have an insulated layer inside that makes them perfect for the stroller, car and even floor play.
Snuggle Buggle Blankets are very durable and easy to care for. Throw them in the washer on warm and then in the dryer on low no bleach . That first blanket I made is over 11 years old and still looks great!
Snuggle Buggle Blankets are available in a variety of prints and solids, you mix and match. The blankets are approximately 3 feet by 3 feet 2 inches. Matching pillows (approximately 8 inches by 10 inches) are $5.00 (only available when ordering a blanket. ) Please specify the print and solid. If no solid is specified white will be used. Cost for the blanket is $30.00. Please allow two weeks for delivery. Can't decide? Get a gift certificate. Cost is $32.00. It will be mailed to you and includes a blanket of your choice and shipping. Please contact us for further information.